How to Reduce PST File Size? Help Regarding This!
Do you want to know how to reduce PST file size?

Are you feeling this to be a challenging job to truncate PST file size?

Do you want a solution for troubleshooting Outlook PST corruption problem?
FREE visitation for product evaluation of Split PST Software
How to Reduce PST File Size? We are feeling proud to inform you that after using Split PST software, you can get rid of all above illustrated problems. On the other hand, using manual methods to reduce PST file size it can be a very money-wasting or time-consuming job for novice or even expert Outlook users. You can split your PST files by using the options: Date/Size/Year/Folders/Selected Folders. Also assist you in the case when you are unable to handle software properly and want to know deep info about the process to reduce PST file size. If you minimize PST file size, you can increase the pace of Outlook and work at a faster speed than before.
Steps-by-Step Guideline on How to Split PST Files
You can easily know how to split large PST files with the DEMO version of software (that allows limited process of splitting 15 PST files into smaller parts):
Step 1: Install online demo version of software by applying single mouse click
Step 2: Browse heavy PST file for reducing its size
Step 3: Click on SPLIT button, process will start automatically
Step 4: Save splitted PST files in your system at place of your choice
We're Here to Help You
Split PST Software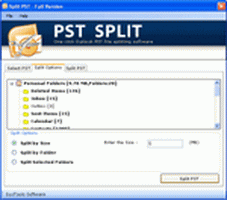 Software Help!
How to Split Outlook PST Files
How to Split a Large PST Files
How to Split Heavy Outlook PST Files
Supported Version