Modify Secure NSF Files
Modify Secure NSF Files: Even in the Absence of the Administrator
Looking forward to Modify Secure NSF File? Securase is the apt solution for you as millions of users find it excellent solution to be used to Modify Secure NSF File. Here it is provided one testimonial shared by one of our customer via email, about his experience of using Securase software to modify secure NSF file, We are happy to hear from our valuable customers that our product Securase helped them move out of trouble while NSF file access is restricted by error messages like the below listed:
You are not authorized to access that database
You are not authorized to perform that operation
Appreciation note shared by Adom Mike Jefradi, proprietor of one well established business set up, who used Securase to modify secure NSF files. We welcome other user also to share their experience of using Securase to modify, remove or break local security of NSF file.
"Hi, Securase team, I am glad to share my experience working with your magical tool. I found it really useful; I was in serious darkness of what to do next, when I found out that the NSF files that were locally secured by my administrator, become inaccessible for me. Then the Securase bring the light to my work by helping me to modify secure NSF files, so that it become usable even when my administrator was not reachable. Thank You Securase, and I wish you all the best in future and I promise I will definitely expose your wonder tool to all my colleagues who are in search of a solution to modify secure NSF files for genuine reasons."-- Adom Mike Jefradi
Grab the opportunity, Order for Free Now!
For sure you also will shower appreciation for Securase if you use it to modify secure NSF files, so get the tool now and solve error messages and the inaccessibility of NSF files due to local security imposed on it.
We're Here to Help You
Securase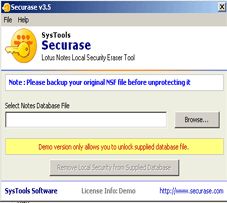 Securase Video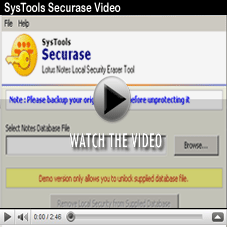 Related Pages of Securase
You are not authorized to perform that operation
Remove NSF Local Security Encryption
You are not authorized to open this file
Remove Restricted Setting from NSF